EDIT MAIN
Principal's Corner
UTMS, a place where every student matters, every day!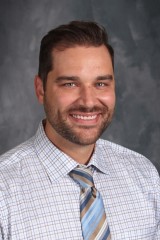 UTMS students continue to demonstrate increases in student achievement as measured by the Indiana Statewide Test (ILEARN) in the areas of Math and Language Arts, along with 6th grade Science. Union Township Middle School is a welcoming, progressive, and high achieving school as a result of the cooperative effort of our students, staff, administration, parents, and community. We take pride and responsibility in delivering the challenging state College and Career
Readiness Standards (http://www.doe.in.gov/standards), along with providing vibrant fine arts programs, sports teams, and student organizations to encourage student involvement. In addition, we are sensitive and responsive to the unique social/emotional developmental needs of our middle level students by enhancing the school with special programing and support.
We embrace accountability and believe our school should be measured by achievement in all core subject areas, student social/emotional development services, and extracurricular programs. At UTMS, we value and provide a well rounded core curriculum education along with fine arts programs and extracurricular programs. We have demonstrated success, as measured by student achievement, attendance, and participation in all core subject areas, fine arts programs and extracurricular programs.
With that said, we are proud and humble to receive a letter grade of "A" for the 2015-2022 school years by the state. We understand that the grade is a snapshot of one school years success with achievement and growth. We will continue to strive for an increase in student achievement in all subject areas, along with progressing in other important core curriculum area's, fine arts, and extracurricular programing.
We are proud of our students, staff, parents, administration, and community. Bearcat pride permeates through the halls of UTMS!