EDIT MAIN
Arts
42nd Annual Arts-A-Budding
Student Arts Exhibit
Mar 2 - Mar 13, 2018
The 43nd annual Arts-A-Budding program at the VU Chapel celebrates the outstanding efforts of the students and Art educators of Porter County. Art is on display March 2 thru Wednesday, March 13. Congratulations to our UTMS artists and Art teacher, Mrs. Karen Blakely for their wonderful art displays!
The 43rd Annual Porter County Arts-A-Budding student art exhibit begins Saturday, March 3 and will continue until Tuesday, March 13 at the Chapel of the Resurrection, Valparaiso University Campus. This exhibit is organized through volunteer efforts of the Porter County Visual Arts teachers and is sponsored by the Porter County Arts Commission in cooperation with the Bauer Museum of Art, Valparaiso University.
This is an exhibit of the best artwork produced by students K-8 in Porter County. Each Visual Art teacher from across Porter County selected their top 11 pieces of artwork done by their students during the past year. The pieces done by these students include various media such as drawing, painting, printmaking, fiber art, sculpture, pottery and computer graphics.
These honored students, along with their family and friends are invited to the Award Ceremony & Reception on Sunday, March 11, 2018 at 2:00pm. Approximately 1,500 people attend the ceremony every year! At the reception, students will be publicly recognized for their accomplishment by name and will receive a ribbon. Each year the talents and accomplishments of more than 400 participants are recognized. Arts-A-Budding gives Porter County students an opportunity to exhibit their work and be rewarded for artistic merit.
The Award Reception is on sunday, March 11. Doors open to the public at 1:00pm with the ceremony beginning at 2:00pm.
Artist Visits 7th Grade Art Classes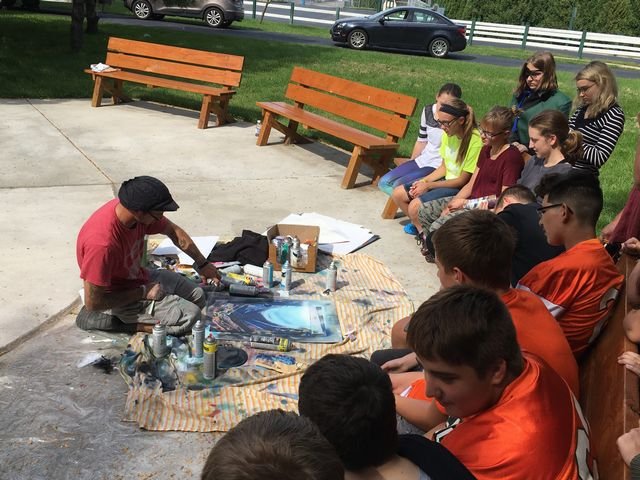 Artist and UTMS parent, Patrick Elam, creates beautiful landscapes and waterscapes using spray paint and household items on canvas. He recently visited 7th grade Art classes where he completed an entire landscape during every class. Mr. Elam captivated the students with the ease and speed in which he works. He engaged the students by incorporating their suggestions into his artwork and by explaining his technique. Mr. Elam said he is inspired by nature. He told the students to look beyond the parking lot. He said, "Look at all the layers of nature out there. The inspiration is endless."
Students raised funds to donate to Mr. Elam by holding a silent auction during Advisor class.
UTMS Students Create Interactive Rain Barrel Art for NWI Earth Day
The rain barrel will be on display at NWI Earth Day on Saturday, April 16 at Porter County Expo.